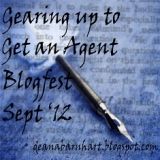 Continuing with the theme of
Gearing Up to Get An Agent
is a pitch and first words blog hop. Since I wasn't available on Friday to submit during Deana Barnhart's open window , I'm participating in the second part of the Pitch Polish, the blog hop. You can read more about that
here
. There are several blog hops throughout the six weeks of GUTGAA, so hopefully I've got the right one. I'll put the linky below, or you can find me under
Number 30
.
In order to get the most benefit out of the blog hop, I'm electing to keep the same formatting as if I submitted to Deana and was one of the lucky 100 finalists selected. For those of you who were selected, CONGRATULATIONS!!
Here is my entry. I will continue responding to all the lovely "Meet and Greets" from last week, and stop by if you're participating in this blog hop part of #GUTGAA as well. Let's sharpen our editing pens and slash and polish these pitches and first words to glittery shine, my writer peeps!
Write on!!
Pitch Polish Entry #30
Author's Name:
G. Donald Cribbs
Title of Manuscript:
The Packing House
Genre:
YA Contemporary
Word Count:
77,000
Query:

THE PACKING HOUSE (YA Contemporary from a Male POV)
When sixteen-year-old Joel Scrivener has a raging nightmare in study hall and someone records it on their phone, Joel awakens to a living nightmare where everyone knows the secret he's avoided for ten years. Reeling from a series of bullying incidents posted on YouTube and an ill-timed mid-year move thanks to his mother's loser boyfriend, Joel must choose whether to stay where he's at with the chaos he knows, or leave and forge his own uncertain future as a runaway.

Once his choice is made, Joel's past meets up with his future and lands him back with his father's family, face to face with Amber Walker, the girl he's been "just friends" with since his parents divorce. But when the cops show up and bring Joel's hidden past front and center, Joel taps into toughness he never realized he had, in order to face the investigation. He needs to be tough if he's going to steer Amber Walker away from her current bad news boyfriend. She's made it clear to Joel she doesn't want a broken boy, a façade she's hidden her true feelings behind. But unless Joel finds a way to confront his past and carve out a durable future for them both, he risks losing Amber forever.

THE PACKING HOUSE is a gritty YA contemporary stand-alone with duology potential, complete at 77,000 words. It can be described as SCARS meets BOY TOY and SOME KIND OF NORMAL, with a PERKS OF BEING A WALLFLOWER vibe. In addition to being a proud member of YAlitchat.org, I have spent the last decade working at a boarding school for underprivileged teens, and am currently working as a Therapeutic Support Staff with clients of varying mental health needs. I am also a state certified English teacher.

Read an excerpt of the first chapter HERE.

Read a prelude to THE PACKING HOUSE HERE.



Contact me at: g.donaldcribbs@yahoo.com
First 150 Words:
1 |

Lock-In
It's late afternoon and not the time for sleep. I only manage to snag an hour or so before Jonathan's loud-ass banging wakes me from the only rest I'll get prior to the school lock-in. He crams contraband in his backpack and slams drawers. Still, he could be quieter if he expects me to help him pull off the elaborate score he's been lining up for weeks.
Why'd I have to go and lose the bet? To settle up, I'm slave to my younger brother and his list of girls for the night. At his beck and call.
I rub the remnants of sleep from my eyes and stretch out the aches in limbs that scream for more than an hour of closure. The shudder takes me by surprise. Maybe he won't notice. With any luck, I'll find somewhere private to crash at the high school in case the nightmares come back.
________________________________________________________
I welcome your feedback in the comments below. As a writer, I am accustomed to constructive criticism focused on making the best possible version of this story. With that in mind, I encourage you to be bold and tell it like it is. I find hearing many perspectives helpful in revising and polishing my MS, and I promise not to be offended. If you comment, I appreciate you taking the time to read and say anything at all. If you'd like to read more, I have the entire first chapter posted on the upper right tab at the top of my blog. All comments are welcome.
I look forward to reading your entries and offering feedback as well!